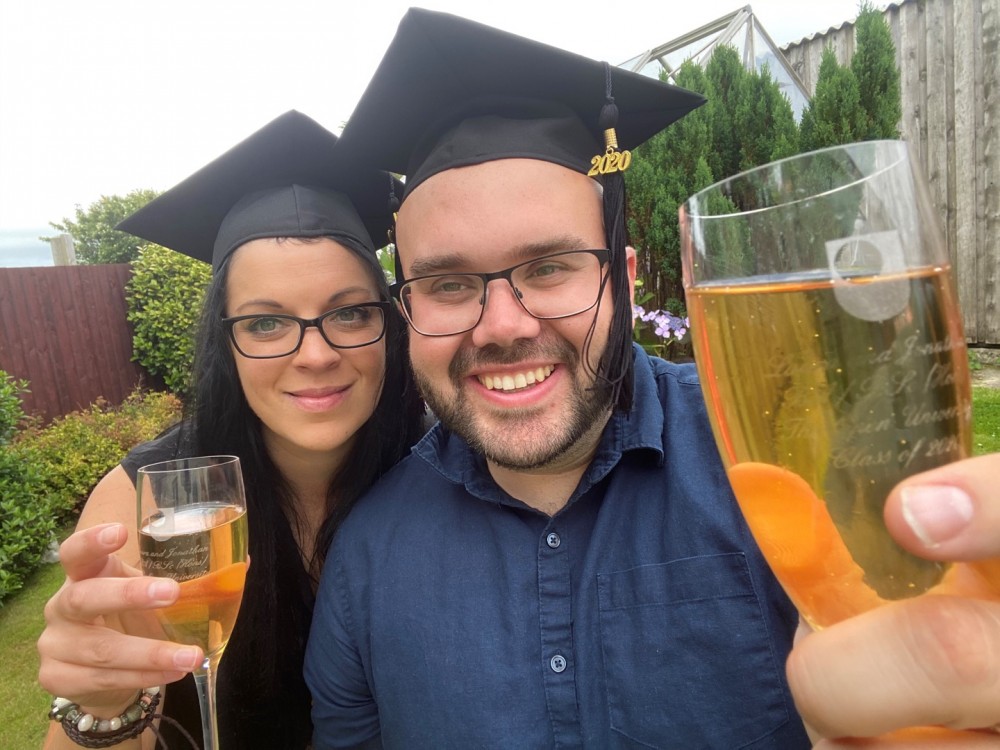 For couple Laura Barrett and Jon Thrower, completing their OU qualifications is cause for a double celebration. After meeting in 2015, the pair realised they were both studying for degrees with the OU in Wales and soon a friendship, romance and study partnership began to blossom. After years of studying together and inspiring one another, the couple have now completed their qualifications together and are proudly part of the OU Class of 2020.
First steps into higher education
Laura and Jon both grew up in different parts of the UK, and neither have what they describe as a 'standard trajectory' into higher education. Jon, from Milford Haven, Pembrokeshire was brought surrounded by oil refineries and the maritime industry and was encouraged to follow a route into engineering. He was, as he describes, only 'semi-inspired' by the subject, and went to manage a local supermarket instead of going away to university.
Laura, who went to school in Shropshire and now lives in Haverfordwest, did very well in school initially but left at 14 without any GCSEs following personal tragedies and mental health difficulties. She began attending college, and while this proved too difficult, her dad suggested that she try the OU.
When Laura's son was born in 2010, she was inspired to begin a new chapter of her life:
"My son Dylan Christopher was born, and through a determination to improve the prospects of his life and mine, I took the plunge and finally started an OU degree following my Dad's advice. I was also attracted to the OU because of the flexibility it offered around parenting and work, and by the open entry policy which fits in with my own values and ethos."
Laura began working towards an arts degree but following a break in 2012 decided to switch to study the Open Degree and studied several social sciences modules as this aligned more with her aspirations, and due to her own experiences of living with a disability.
"I have found that my mental health has become more stable through understanding the world from a critical perspective," says Laura. "And by doing this I can now take a step back from things that evoke unpleasant emotions. It is no longer 'that's just life' when asking why things happen."
Finding flexibility and friendship
After a few years of working in his local supermarket, Jon also decided to take the plunge and explore higher education. With a keen interest in politics and psychology, the OU's Open degree was perfect as it allowed Jon to explore different subjects which he was passionate about.
"I also can't underestimate how important it was to be able to study at distance," Jon explains. "By the time I decided to go into higher education, it wasn't really appropriate to just pack up my bags and head off to uni. The OU allowed me to follow my aspirations from the comfort of my own home and fit my study time around my other commitments."
As with many OU students, both Laura and Jon often felt the pressures of deadlines mixed in with everyday life but would often support each other through it. A few years back, they installed a giant wall planner in Laura's kitchen to keep track of appointments. They often reminisce about some of the exciting times as well, like their first ever assignment score, and putting together a playlist for travelling down to Cardiff for tutorials!
"Jon has been a huge inspiration throughout my studies. I can honestly say that without his influence I would not have reached this point," says Laura.
"And the person who inspired me most is Laura," adds Jon. "She's faced tremendous difficulties with her mental health throughout her journey and what she has achieved is truly remarkable. Her story and achievements embody what the OU stands for."
'Despite COVID-19, we did it!'
After years of hard work and studying together, Jon and Laura both completed their Open degrees in 2020. The pair plan to continue their OU journey together by studying for a MSc in Psychology. Despite not being able to celebrate their success at a degree ceremony as they hoped, Laura and Jon have both joined in the OU's virtual celebrations, and are encouraging others graduates, and their friends and family to take part as well. They're both among several students who feature in a new 'Class of 2020 video', which includes some famous OU graduates such as former Wales rugby international Nigel Walker.
Well done to Laura, Jon and all of the OU Class of 2020 – on behalf of all of the OU family in Wales and around the world.