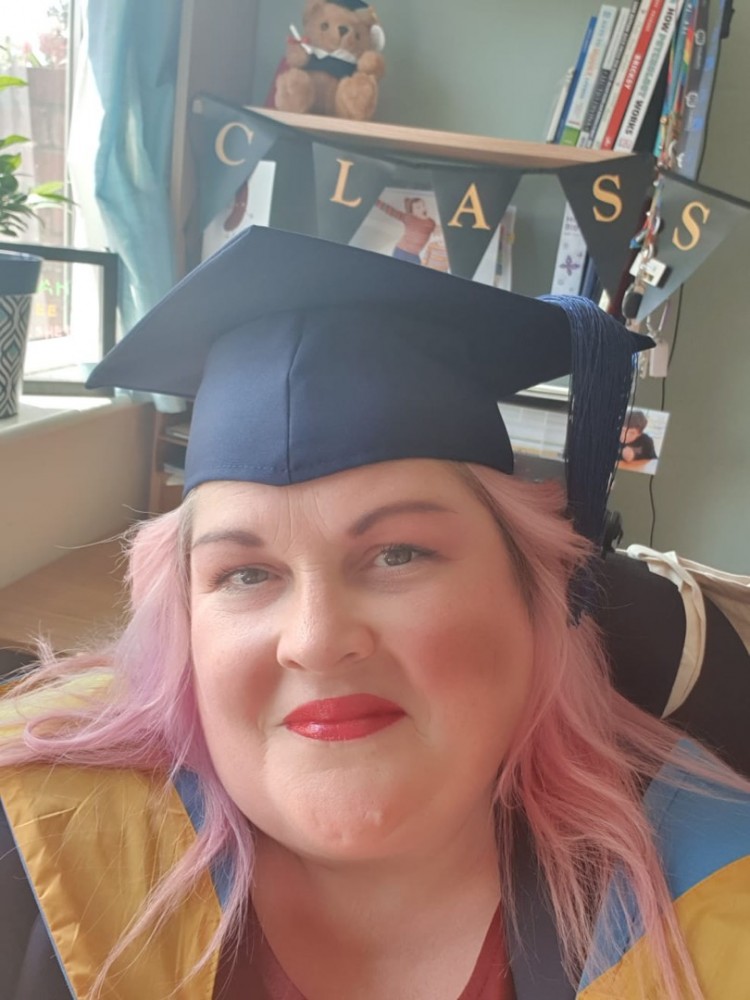 What was your first memory of the OU? For Students Association President Sarah Jones, OU programmes and science kits were all a part of growing up with her father, who was one of the OU's very first students:
"When we were younger, my dad would record some of the OU programmes that were on so we could sit and watch them during the school holidays," explains Sarah. "The biggest thing I remember is when I was doing my GCSEs, he wanted to help me study so he dug out all of his OU Maths stuff and said 'There you go, if you can do that, you can do your GCSEs'. So I actually looked at Maths papers from his degree and it was a big help!"
Sarah's dad, Nigel began his OU degree in the early 1970s. The family were considering a move to Australia, where Nigel would need a degree to continue his teaching career. The OU offered the flexibility he needed to gain his qualification while continuing to work and look after his young family. Though they didn't end up moving in the end, Sarah says her father spoke of his studies with 'a lot of passion and fondness' throughout his life. He even kept his OU science kits on display and would enjoy showing them to his children while sharing stories of his study days.
'If my dad could do it, I can too!'
It was this passion that inspired Sarah's first career dreams of becoming a doctor, though sadly it wasn't meant to be, as she explains:
"That dream of being a doctor was taken away from me quite quickly when I was diagnosed with ME (myalgic encephalomyelitis, also known as chronic fatigue syndrome) at 13. I ended up being off school for a really long time, about six months. I spent a long time doing part-time schooling. That was a massive challenge as schools back then weren't as good at providing extra support."
After such a turbulent time in her final school years, Sarah decided to take a break from education during her A Levels and began volunteering, working as a nanny and caring for young children.
It wasn't until years later, when tragedy struck that Sarah began to re-evaluate her future. Her husband died suddenly, and Sarah says she attempted to rebuild her life while battling her illness.
"I had been plodding along to be honest," says Sarah. "I would find a job and then my ME would kick back in. My first husband died suddenly, and it kicked me into the realisation that I need to stop plodding on."
After meeting her partner Dave, Sarah moved to Bristol and began working as a youth worker, a role she says she thoroughly enjoyed. Following the birth of their two children, her 'little monsters', Sarah sadly suffered post-natal depression, which she says 'put paid to everything'.
"All these horrible things had happened and when [the children] went to school, I realised I needed to pull myself together and do something. I always wanted to go back and do a degree and thought, 'If my dad could do it at the OU with small children, I can do this too!'"
It was a decision that would completely change Sarah's life.
'I've found my purpose'
Sarah began her Primary Education degree with the OU in 2017 and admits her low confidence made her want to initially 'hide behind a computer screen!'. Though for anyone who knows Sarah, this didn't last long!
"I was Sarah there, I wasn't somebody's daughter, somebody's sister or their mum or wife. [At the OU] I was Sarah and that was lovely. I've got so much from being an OU student, it's given my confidence back. My degree has definitely changed me and my life for the better. It's given me purpose to carry on."
After working as a student representative throughout her degree, Sarah became President of the OU Students Association in 2020, the same year she graduated. It's an accomplishment she would never have dreamed of when she first started her studies. She is now completing her Masters in Education and hopes she can continue her work in creating positive change for learners of all ages:
"[The OU] has given me the confidence that I can go and speak at the highest level, I can have a voice and my voice matters. I represent more people than my local MP does, and I feel I can go and talk to people in government and say 'We need to make things better for our students'."

Sarah's father, Nigel with Sarah's eldest child


Though her father passed away before Sarah enrolled with the OU, she believes he would be proud of all that she's achieved:

"I think he would be quite proud of where I've got to and I think he would understand the challenges of working full time and studying too. Though I bet he would say, 'Sarah, I can't believe you're not studying anything to do with science!'"